Published on 11/29 2017  Source: chinadaily.com.cn
The Design of Medical Devices Conference, China 2017 (DMD China), the world's largest premiere medical devices meeting, is underway at Beijing International Convention Center in Beijing from Nov 28 to 29.
The conference, introduced to China for the first time this year, is expected to become a regular event. Designed to display and enhance China's development in medical devices, DMD China will invite experts and set up sessions related to device approval and clinical needs.
The conference has attracted world-class designers, research scholars, approval authorities, manufacturers and delegates of healthcare organizations and public management departments in medical devices, including Dr. Art Erdman, founder and chairman of the DMD, Derek Mathers, a business development manager at Worrell and Zhao Changshan, president of Zhongguancun Development Group.
Hot topics to be covered include cutting-edge design technologies, research and development, industrialization, patent and property rights protection and industry regulation of medical devices. Advanced medical device projects will also be promoted at the conference.
The Design of Medical Devices Conference, China 2017, the world's largest such conference, is underway at Beijing International Convention Center in Beijing from Nov 28 to 29. [Photo provided to chinadaily.com.cn]
Erdman said that he was so pleased to see the event held in China, and to see the successful construction of Zhongguancun Medical Device Park. He believed that the DMD China conference will play a pivotal role in international communication about medical devices in China.
The International Technology Transformation Center of Zhongguancun Medical Devices Park was unveiled at the conference's opening ceremony.
As of April this year, the Zhongguancun Medical Device Park had attracted some 100 enterprises and a large number of skilled people, among them four academicians and three from the "One Thousand Foreign Experts Project", a recruitment program for global experts initiated in 2008.
Zhao Changshan said that the conference will enhance understanding of medical devices' design and development and the actual needs for their clinical application and provide a platform for professional discussions and announcements regarding them.
The DMD China is co-hosted by the Medical Devices Center of the University of Minnesota, New Discovery Group, Zhongguancun Medical Device Park Co Ltd, and the International Technology Transfer network.
DMD was launched by the University of Minnesota in 2001, aiming to strengthen the cooperation between the academic world and industry, and to facilitate medical device-related policies, research and education. Meanwhile, it also supports the university in medical device education.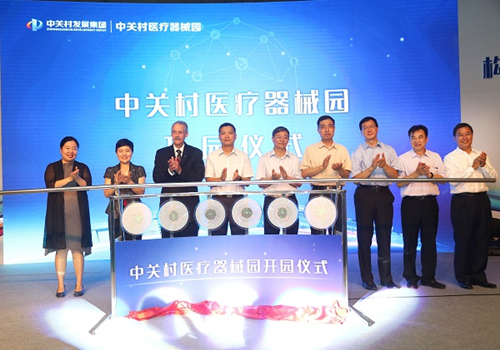 Zhongguancun Medical Devices Park announces the start of its commercial operation at an opening ceremony held in Daxing Biomedicine Industrial Base on June 18. [Photo/mpark.com.cn]