Published on 11/27 2017  Source: chinadaily.com.cn
The Zhongguancun Science Park Administrative Committee issued a policy elaborating on the Zhongguancun Action Plan on AI Industry Cultivation (2017-20) on Nov 24, further playing Zhongguancun's leading role in the construction of the country's scientific and technological innovation center.
The plan, officially released at the end of September, is the first regional policy that supports and promotes the development of artificial intelligent (AI) industry in China.
The plan proposed that Zhongguancun will form an AI industry scale of over 500 billion yuan ($75.6 billion) in the next three years and initially shape an AI industry cluster with international competitiveness and technological leadership.
Combining characteristics and industrial foundation of Zhongguancun's AI industry development, the plan focuses on five key core technologies: research and development of AI chips and sensor technologies, AI operating system and basic software, AI core algorithm, AI application and system integration technology and AI basic theory and cutting-edge technology.
A visitor communicates with a robot in Zhongguancun Exhibition Center. [Photo provided to chinadaily.com.cn]
Zhongguancun owns China's biggest and most powerful AI innovation power group. Official statistics show that there're currently 250 artificial intelligence enterprises with over 7,800 patents in Zhongguancun, both ranking first in China. Additionally, 42.9 percent of China's AI entrepreneurial enterprises are also from Zhongguancun.
By 2020, Zhongguancun is expected to form an AI super group that will encourage international competitiveness. For instance, a batch of frontier technological achievements and AI international standards are expected to take shape in the next three years.
Zhongguancun strives to create more than 10 open innovation platforms that can serve the R&D and industrialization of AI industry by 2020, with remarkable achievements in collaborative innovation in production, teaching and research. It will launch a batch of high-level AI application solutions and realize large-scale application in more than two subdivided areas.
The number of artificial intelligence companies will exceed 500 and more than five leading companies with international influence will be cultivated.
Zhongguancun AI companies are luring worldwide capital, reflecting the potential and prospects of the zone's innovation-oriented companies. Beijing Horizon Robotic Technology R & D Co Ltd announced on Oct 20 that it has received A+ financing of about 100 million yuan ($15.13 million) from global institutes, including Intel Capital and Hillhouse Capital. The startup will join with world leading internet giant Intel to accelerate the development of China's unmanned automatic driving industry and smart cities.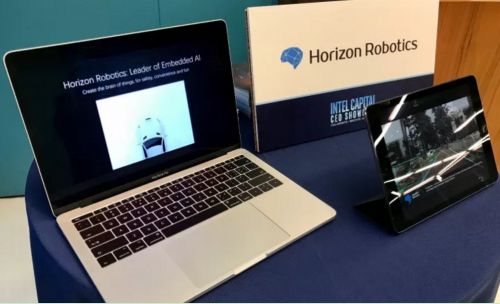 A demo of Horizon Robotic's latest high-level Advanced Driver Assistant System [Photo provided to chinadaily.com.cn]